At Precision Construction NY, we take pride in offering a wide range of roofing services, including roof replacement and gutter installation, to address common problems faced by homeowners in Long Island, NY. We will list the common issues in detail and explain how our products and services provide effective solutions.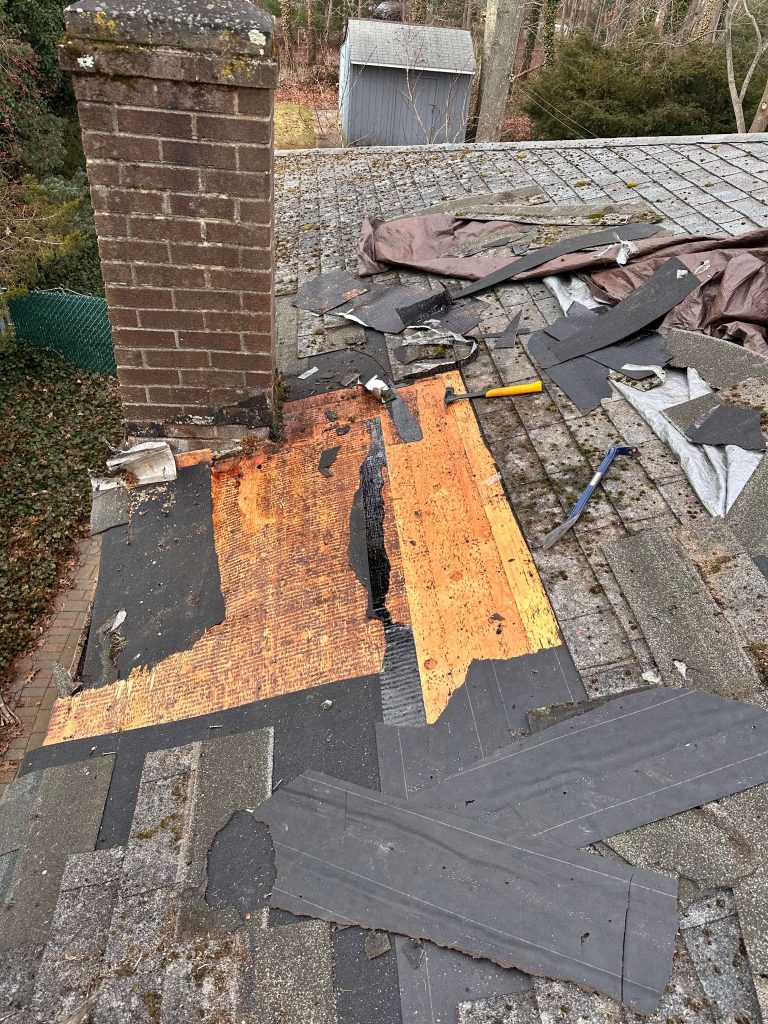 Installation Errors: Improper installation is a leading cause of roofing problems. With complex roofing systems comprising various components, it is crucial to have experienced roofers who understand the intricacies. Our installation team undergoes regular training from trusted brands like GAF, CertainTeed, and Malarkey, ensuring that every installation is done correctly. We stand behind our workmanship with applicable warranties, providing you peace of mind.
Hail Damage: Differentiating between functional and cosmetic hail damage is essential when filing insurance claims. Our expert team has the knowledge to accurately assess hail damage and provide suitable solutions. You can rely on us to guide you through the claims process, ensuring your insurance claim is handled efficiently.
Storm Damage: Dealing with storm damage requires more than just repairing your roof. Proper documentation is crucial for a smooth insurance claim process. Our team not only provides emergency storm damage repairs but also assists you in documenting the damage accurately. By ensuring thorough documentation, we help streamline your insurance claim and prevent delays.
Inefficient Gutters: Incorrectly sized gutters can cause overflowing or backing up of rainwater, leading to water damage and potential structural issues. Our gutter specialists have the expertise to select the appropriate gutter size for your home, ensuring optimal performance and efficiency. With our gutter installation services, you can say goodbye to inefficient gutters and the associated problems.
Frequent Siding Repainting: If you're tired of the constant hassle of scraping and repainting your siding, we offer low-maintenance solutions. Consider fiber cement siding from James Hardie or vinyl siding from Mastic. These durable siding options are designed not to blister, crack, or peel, eliminating the need for frequent repainting. With our siding replacement options, you can enjoy long-lasting beauty and reduced maintenance requirements.
Poor Ventilation: Inadequate ventilation in your roofing system can lead to a range of problems, including moisture buildup, reduced energy efficiency, and the potential for mold and mildew growth. Our roofing experts can assess your current ventilation system and recommend improvements to ensure proper airflow, maintaining a healthy and energy-efficient environment in your home.
Leaks and Water Damage: Roof leaks are a common issue that can cause significant damage if not addressed promptly. Our skilled team specializes in identifying the source of leaks and providing effective repairs. Whether it's damaged flashing, compromised shingles, or a problem with the roofing structure, we have the expertise to fix the issue and prevent further water damage to your property.
Aging and Wear: Over time, roofs naturally deteriorate due to exposure to the elements. Aging roofs may show signs of cracked or missing shingles, weakened structural integrity, or general wear and tear. Our roof replacement services offer durable and long-lasting solutions to revitalize your home's protection. We work with high-quality materials to ensure your new roof stands the test of time while enhancing your property's curb appeal.
Energy Inefficiency: If you're concerned about rising energy costs, our roofing solutions can help improve energy efficiency. We offer energy-efficient roofing materials that provide better insulation, reducing heat transfer and keeping your home comfortable year-round. By upgrading your roof, you can potentially lower your energy bills and create a more environmentally friendly living space.
Emergency Repair Services: Unexpected roofing emergencies can occur, such as severe storm damage or sudden leaks. We understand the urgency of such situations and offer emergency repair services to address your immediate needs. Our team is available 24/7 to respond promptly, minimize further damage, and restore the integrity of your roof quickly and efficiently.
Sustainable Roofing Options: For environmentally conscious homeowners, we offer sustainable roofing options. These eco-friendly materials, such as recycled shingles or green roofing systems, minimize environmental impact while providing long-lasting protection for your home. Our team can discuss the various sustainable roofing options available and help you make an informed choice that aligns with your environmental goals.
Skylight Installation and Repair: If you desire more natural light in your home or want to enhance its aesthetic appeal, we specialize in skylight installation and repair. Our experienced technicians can recommend the best skylight options, install them professionally, and perform any necessary repairs to ensure they continue to function optimally.
By addressing these common issues through our services, we strive to provide homeowners in Long Island with reliable and effective solutions. We are committed to enhancing the functionality, durability, and aesthetics of your home's exterior.
If you have any specific concerns or would like to learn more about how our services can benefit you, please don't hesitate to contact us. Our experienced team is here to assist you and provide customized solutions for your home's exterior needs.
Our commitment is to provide exceptional services that address a wide range of roofing and exterior concerns. Whether you require repairs, replacements, or installations, our experienced team is ready to assist you.
Contact us today to schedule a consultation and discover how our services can transform your home.